Following are some lifestyle changes that we can all make to help decrease our risk of developing heart disease. Only 25% of heart disease risk is genetic, therefore we have more control than we think.
Weight loss
• Losing 5-10% of your body weight can significantly improve your heart health. In addition for every 1 kg (2.2 lbs.) of weight loss BP drops by 1 mmHg.
Getting a good night sleep
• Trading in your ZZ's to catch up on TV shows, emails, social media, work triples your risk of biochemical shifts leading to heart disease.
• In addition if sleep less than 7-8 hours it causes you to overeat the next day by 400-500 calories as well as increasing your risk for developing type 2 diabetes.
Limit red and processed meats
• 4 oz. of red meat or processed meats (hot dogs, sausage, bacon) can increase risk of heart disease by 30%.
Eat more fiber
• Improves cholesterol, decrease blood pressure and reduces belly fat.
• Decreases risk of heart disease by 18% (bonus: decreases risk of breast cancer as well).
Whole Foods
• Following diet with variety of vegetables, fish, fruit, whole grains (in moderation), and lean meats (in moderation) can lower your risk of heart disease by 25%.
Exercise
• Total of 150min/week (30min/5 days per week or 50 min/3 days per week), decreases your risk of heart attacks, stroke, decreases blood pressure, increases your heart healthy cholesterol (HDL).
• In as little as 90 days there are noticeable age-reducing effects of exercise on the heart.
Laughter
• Decreases the stress hormone cortisol. Individuals who suffer from depression are twice as likely to have a heart attack.
Dentist
• Having teeth cleaned every 6 months can lower your risk of heart attack by 24% and risk of stroke by 13%.
Boost your self-esteem
• Feeling good about your life and accomplishments decreases your risk of heart disease by 13%.
Snoring
• Can be a sign of sleep apnea. If left untreated sleep apnea increases your risk of high blood pressure, diabetes, heart failure, stroke, and heart disease.
Sex
• Having sex at least twice a week has been linked to substantial decreases in heart disease risk.
Chocolate (dark only)
• Eating chocolate in small amounts (exact amount yet to be determined) a few times per week can lower your risk of heart disease by almost 40%, diabetes by about 30%, and stroke by about 30%.
• Keep portions small 1-2 oz. to avoid weight gain and further stress on the heart.
• Semisweet, milk and white chocolate are not beneficial to heart health.
Search tags:congestive heart failure, heart attack symptoms, heart murmur. heart attack, chest pain, coronary artery disease, cardiologist, signs of a heart attack, heart failure, heart disease, heart catheterization, angioplasty,
heart attack symptoms in women, symptoms of heart attack, enlarged heart, signs of heart attack, cardiovascular disease, signs of heart attack in women symptoms of a heart attack, heart attack signs, peripheral artery disease,coronary arteries, heart attack symptoms in men, heart healthy diet, heart stent, coronary artery disease symptoms,symptoms of heart attack in women, blocked arteries, sharp chest pain, heart angina, living with heart disease,exercise and heart disease, dr. noel peterson, eastern cardiology, greenville, farmville, new bern, winterville, tarboro, rocky mount, nc, vidant medical center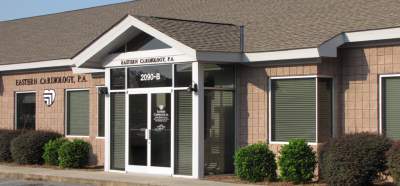 Office information:
Park Place Professional Center
2090 W Arlington Blvd, Suite B
Greenville, NC 27834
Ph: 252-757-3333 / 252-758-3000